News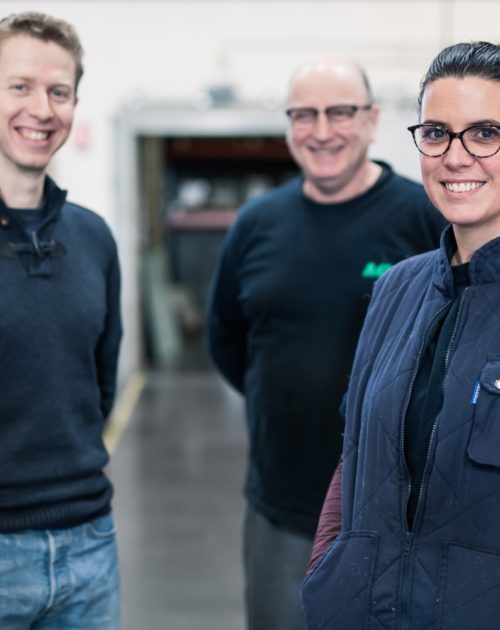 MIP has a 'can do' corporate culture! That's only to be expected, given that we complete 100 new projects every year.
Please feel free to read all of our company's latest news stories: investment, recruitment, new products, trends, sectoral news updates, etc.
Welcome to our world!
News
February 03 2022

New year, new customer, new projects!

We are proud to announce a new partnership with HYDROSYSTEM. This company designs and manufactures of special hydraulic machines and excavators.

They decided to highlight their know how on their highly technical products by choosing a 3D emblem.

Thank you for this great partnership.

September 28 2020

The HELIOSTAR PHASE II has been launched!

The new EUROMAG retail truck is now available! We are so proud to be part of this project since we produced the front grill logo.

This new logo is based on Euromag's new brand design. It is in chrome and black PU resin and suits their new premium vehicle perfectly.

July 08 2020

MITSUBISHI SPACE STAR RED LINE EDITION !

As we announced some time ago, the Red Line EDITION has arrived!

Using the latest Mitsubishi brand styling codes, the Space Star has a Dynamic Shield front grille. Furthermore, this Red Line EDITION features two red embellishers at the front, two-tone alloy wheels and our chrome, red and black logo at the back.

Thank you Mitsubishi for this beautiful partnership.

June 22 2020

AQUA LUNG / MIP : a new partnership

Dive into the world of AQUA LUNG, pioneer of the scuba regulator.

These 3D logos, produced for the new LEG3ND, have been done with chrome, enamel, and are available in different colours.

Thank you for this great cooperation !

June 10 2020

DE DIETRICH / MIP : a fruitful cooperation

De Dietrich is a gold standard within the thermal comfort market, offering a vast range of heating and domestic hot water systems.

The De Dietrich logo is a symbol of quality since 1778. It is also the world's oldest known industrial trademark. We are proud to produce this logo in a chrome-plated and pad-printed version, thereby preserving this elegant design.

We thank you for this wonderful cooperation.

May 25 2020

Support from the Auvergne-Rhône-Alpes region

In the context of our international development and the GO EXPORT program with the French Chamber of Commerce and Industry (CCI), we benefit from the support of the region AUVERGNE RHÔNE ALPES.

Thus, we are grateful to the CCI of the Ain department and the Auvergne-Rhône-Alpes region for the support they offer to every company.

May 12 2020

Living safer with Fichet

The pioneer in safes and vaults business has entrusted us with the production of their new logo. Therefore, we thank Fichet-Bauche for their trust, we are glad to highlight their brand.

This beautiful graphic signature complies with the ergonomic design and elegant products our customer offers.

April 28 2020

MIP and MINI: already 7 projects!

Canonbury, Greenwich, GT, Heddon Street, Longstone, Mayfair, Oakwood: 7 special series from Mini for which we have had the pleasure to produce car emblems for both the interior and the exterior, in partnership with Style and Design.

April 09 2020

New partnership for MIP!

We are pleased to announce the release in the coming weeks of a logo for Mitsubishi Motors France for their new limited edition.

See you soon for the launch of the vehicle!

January 17 2020

MIP is in the Bpifrance Accelerator !

We are very proud to announce that we have been selected to participate in the program Bpifrance "Growth Accelerator".

MIP has been selected on a double criteria: growth potential and international development perspectives.

The aim of this this tailor-made program is to help us to strengthen our long-term strategy, to trigger growth levers and favor solid internal and external networks.

December 16 2019

New investment at MIP !

A new injection molding machine has just arrived at MIP, a DEMAG 160, equipped with a WITMANN robot.

There has been several significant investments in 2019 in our production facilities, including also a hot stamping machine and a laser cutting machine.

MIP is increasing its production capacity to support the rising demand.

December 05 2019

Welcome to our new apprentices!

Since September, our three new apprentices Jonathan, Anthony and Maxime took off into their professional future at MIP.

We wish you a very good start!

December 04 2019

MIP becomes a global player

MIP is developing its business at an international level, supported by BPI France. Thanks to the region Auvergne-Rhône-Alpes and its program Go Export, MIP is looking to open up new markets in Europe, especially in the automotive industry, nautical industry and POS-advertising.

Therefore, MIP hired Lena KLOTZBÜCHER as an Export Sales Manager. Let's go!

November 07 2019

3 shifts at MIP!

With the arrival of Gaetan Torres as team leader, MIP is now organized in 3 shifts, in order to increase our production capacity and to support our growth.

Welcome to Gaetan and thank you to all our customers for their trust!

November 02 2019

MIP at the SOLUTRANS show in Lyon, from 19 to 23 November 2019

Every two years, the biggest European meeting of industrial and urban vehicles SOLUTRANS, takes place in Lyon.

This is the opportunity for MIP to show their know-how on these vehicles, in order to highlight the manufacturers and their brands.

Meet us in hall 4 booth L141, our teams will be happy to present our latest products and talk with you on your projects.


July 24 2019

2800th part!!

We are launching the development of our 2800th part, and we are pleased to announce that it will be for a new partnership with FICHET GROUP society. The official launch is scheduled for September, so stay tuned to see product's photos. Thank you to FICHET GROUP and Florent JACOB for your trust.

See you back in fall for the official release!

June 11 2019

Our Quality team is growing!

Christine VERMOREL joined our team for 3 months, as Quality Manager.

After a career in various sectors of activity, serving sensitive activities and applications, Christine chose to participate in the great adventure of MIP to support our growth in our various markets.

June 07 2019

New investment at MIP in hot stamping

Hot Hot Hot!
Our machinery is expanding with the arrival of new equipment from DMA company. A fully electric hot stamping machine that allows us to adjust settings with all the precision needed for the processing of your parts, either on very thin lines or flat surfaces.

February 15 2019

MIP will be exhibiting at the MIDEST trade fair in Lyon, from 5 to 8 March 2019

As the GLOBAL INDUSTRIE exhibition is being held at Lyon Eurexpo for the first time this year, MIP simply had to take part in this major event. This will be a fabulous opportunity for us to showcase our technologies to professionals working in design offices, R&D departments, and in technical and purchasing management roles.

Our staff will be delighted to meet you at Stand 6N158, so that we can discuss how we can make your brands, products and ideas stand out even more…

February 14 2019

MIP welcomes its new recruit, Sébastien Jourdain

Sébastien, who has more than 10 years' experience in the field of producing injection tools with a mold maker (machining / adjustment / fine-tuning), has just joined our teams as a methods technician.

His rigorous approach and knowledge will enable us to refine the quality of our tools even further, so that we can offer the best possible service to our clients.

February 06 2019

A new laser cutting machine: the TROTEC Speedy 300

To keep pace with the growth of our business, we have taken on a second laser cutting machine.

The powerful, high-precision Speedy 300 is easy to use and is the ideal tool for producing custom designs on our adhesive products. Whether it's die-cutting, kiss-cutting, individually-cut letters or monogram designs, the Speedy 300 can do it all!